Craft Beer Branding and Beer Can Design - On Tap at Shepherd
With so many Octoberfest celebrations cancelled this year, we thought we would use this time to chat with our beer design master, Kendrick Kidd. At Shepherd, beer is in our DNA, so we thought we'd have him tell the story about how craft beer design became an agency specialty. Learn how it all started, how it's changed over the years, and why it's important to take a marketer's approach when designing for beer brands.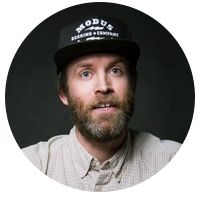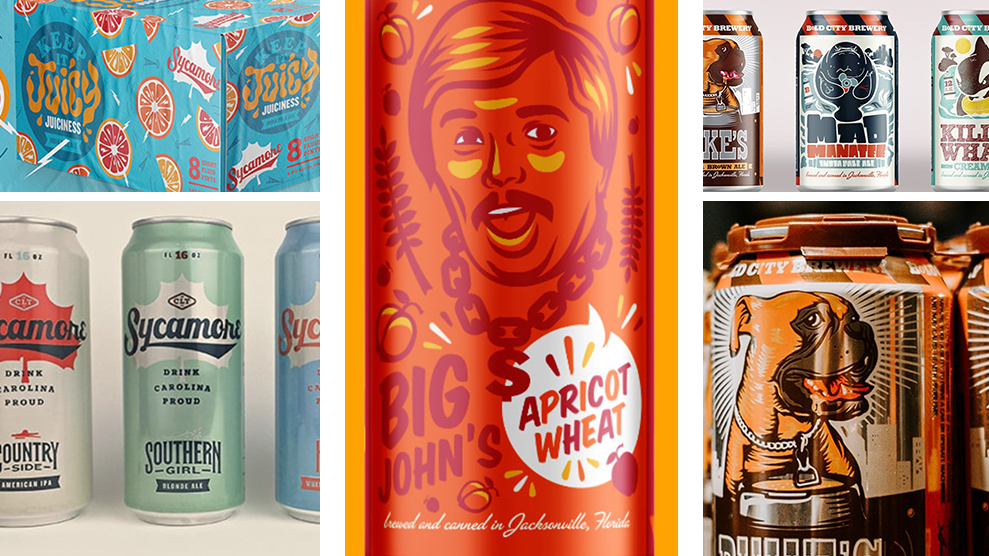 Ashley DeLance: You do a lot of the design for our beer clients. How do you help these clients position and create their brands?
Kendrick Kidd: With beer can designs — whether it's for a 6-pack carrier, 12-pack carrier, or whatever it is that we're working on — it is definitely a reflection of what the brewery wants to project. The personality comes from the breweries, the people who start them, their stories, and what they want to say. It's really important for us to understand that if they are conveying a certain vibe with their brand, that the vibe carry over to the beer can designs, as well. So it doesn't feel disjointed in the end; it very much just feels like an extension of who they are and what they're all about.
A: How did it all get started?
K: The agency was founded as a design studio, and we actually were waaaay ahead of the curve when it comes to craft brewing. Before I got here, the agency did designs for River City Brewing, the city's first big microbrewer back in the '90s, and around that same time, one of the agency's first copywriters headed out west to start a microbrewery in Colorado. The agency did the branding for them.
Our current era started about 10 years ago when another copywriter (there may be a correlation with writers and beer when I think about it), Jacquie Wojcik, got wind that a new craft brewery was coming to Jacksonville, and at the time, Jacksonville didn't have any non-restaurant brewers. 
We were both craft beer drinkers and got really excited about us getting something local and new in the craft beer category. We thought it would be really cool if we got in touch with these people and talked to them about letting us give it a try. So we had a casual meeting, hit it off, and that's how we started working with Bold City Brewery. 
At the time, we knew nothing about government warnings, regulatory requirements, and all of the things that needed to be on a beer can in order for them to be able to sell it to the public. We were completely ignorant, and thought, "hey, let's just make some cool designs for this local company." We had to feel our way around a little bit at first, we made plenty of mistakes, but I think the expertise that we brought to the table was our understanding of brand and design. 
Where they knew more about the beer side, we knew more about the branding and marketing side. I think that's why the relationship worked so well. That, in addition to them just being incredibly nice people. It was a lot of fun!   
A: Some of the design work that you've done for breweries (like Bold City) started at Shepherd and some of it started with you working with other breweries (like Sycamore in Charlotte) as a freelancer and then bringing them into the agency as a client. What is the benefit of bringing your design work into the agency?
K: Sycamore was a freelance client for many years, but they got to the point where their needs were growing and I was having a hard time handling it all on my own. Of course, I feel like everybody's dream is to work on the kind of work you want to work on during the day, and not necessarily have to do it as side work or work on the nights and weekends to get it done. 
So, we had the conversation about bringing Sycamore in, and it was a good fit. They were getting to a point where they were no longer a local, craft brewery (to the Charlotte area) and definitely wanted to grow outside of that market and become more of a regional player. 
In order to do that, there's definitely more strategy involved and there's a lot more volume when it comes to the design work that they needed to have done, which was not just can design, but point-of-purchase designs, carton designs, etc. 
They also started to put more thought into campaigns that were structured around individual beer brands that they were making, so it went from a very small boutique project to more of an advertising effort and when that happened, I realized I needed more help than just my two hands on the weekends to get everything done. 
A: The agency's view of freelance is fairly unique among agencies, isn't it?
K: I think it is. But, it's pretty smart. I've been able to develop experience in a different category, make a little extra money, and build a portfolio that draws people in through both doors. There's total trust and total transparency on all sides, so it works for us.
A: You mentioned Bold City and how when they started in Jacksonville, there were no other local, craft breweries. That's not the case now! What do you think it takes for a local brewery to scale and grow, or even survive, in a now-saturated market?
K: It is a saturated market now! Ten years ago, it might have been a little bit easier to stand out. First of all, I think you have to have a great product. If you are not making beer that people want to drink or if you're just making something a little bit middle-of-the-road, it's a lot more difficult for locals (even if they have local pride and want to support local business) to pick and choose between 10 or 15 breweries. 
How are they going to make that decision? Location is part of it, too. Scaling outside of your own market becomes more difficult, too. Most brewers aren't inherently marketing people, or advertising people. They got into this to make beer. They are running a business, handling a brew schedule, trying to come up with new flavors for people to try... 
The ones who want to scale to other markets get spread a little bit thin since they don't have expertise in the area or have the expertise that a marketing team would. They have a difficult time making those decisions on how to make that transition or what it looks like. Everyone is aware of advertising on TV and radio, but there are so many other things when it comes to media – subtleties and nuances that you can't just learn overnight or Google search or figure out in a week. 
I feel like that's where we come in. It's a sweet spot for us: Help brewers establish a distinct brand identity that will help them thrive locally, but scale up naturally so that they can grown in and beyond their home base.
A: How has the brewery business changed over the last few years?
K: It's changed a lot. A lot of it has to do with volume. There are more people getting in the game. More people are wanting to replicate what they've seen or enjoyed at a local craft brewery. They want to do it for themselves. It's infinitely more competitive than it was 10 years ago. Ten years ago, there was definitely a boom happening in the Southeast, on the East Coast in general, and in Florida. But it wasn't at the point of max capacity. Back then, multiple breweries were opening every day, and now breweries are closing every day. So it's flopped on its head a little bit. It's crazy how many breweries were opening up in a single day, and the number kept getting bigger and bigger, and eventually, it just wasn't sustainable, and sure enough, it imploded on itself. A lot of people who got into the business, but didn't have the product or the know-how, weren't able to sustain it. 
One of the places you really feel it is when you're looking for a name that you can trademark. There are so many brewers with so many brands, you've really got to get creative to come up with something no one else is using. If you're working on a new beer that you want to trademark now, give yourself more time to nail the name.
A: What do you think is the number one reason that a brewery fails?
K: I don't think it's one thing in particular. It's probably several things. The quality of the product, bad business decisions, a highly competitive market, a soft brand… if you put just two of those things together in any one situation, it's going to be really tough for a brewery to survive. 
A: Do you approach the design of a beer product in a specific way?
K: Whether or not someone is trying to do something locally, nationally, or even beyond, I approach it in the same way. We always want to create a quality product for people. So from that standpoint, it doesn't really matter if it's my neighbor across the street or someone from a completely different market. 
Where the approach differs for Shepherd, is that we want to get an idea of what the brewery's goals are. For example, I'd like to know how many products they want to create. Will it be three flagship products? Will it be a less traditional and hyper frequent beer list where you need to produce 10 new labels in a year (or even 6 months)? How do you want to keep your product line moving and keep people interested? Once you hear that, you know the parameters for the pieces that you're going to be creating. You have to be really thoughtful about the way you approach the design. When you know the elements that are locked in (that aren't going to move) that will help create the idea of the brand. Then there are these modular elements that you can pop in and pop out pretty quickly, which switches up the design, but still holds the brand together.
A: How do you pick up a brewery's vibe and incorporate that into the design? How do you make each brewery's products look distinct and unique?
K: We talk to the people who own the company and brew the beer and really try to get to know them first before we start trying to come up with any ideas for aesthetics. That's when you find out why the brewers chose the names that they did, why they started their company, and why they want to head in a certain direction. Sometimes we talk about certain visuals that they like. But it's really about pulling all of these things together. That's how the creative process starts. Once I have all of those pieces together in a pot, I start doing research on what it might look like from a visual standpoint and how it might manifest on a can. The research part is one of my favorite parts of the design process. Very rarely do you just sit down at a computer (after having a single conversation with someone) and just start banging out design work. If you really are trying to establish a voice and a brand, you have to immerse yourself into the research so you can pick the really special reference points that drive home the concept they are trying to convey.
A: To what extent do clients go through a revision process with you?
K: I've put something in front of a client before and they have approved it on the first look, but that's not usually how it goes! For a lot of people, this is their family business. They don't have investors coming in with unlimited capital; it's usually something that people start in their backyard or garage. Home brewing has a story and a process that goes into how they came to be, and it's special to them. When they get to that point where they are going to take that leap from no longer wanting to create beer in their bathtub or garage and want to put a visual to it and create a brand and make it a business, that's a big leap. It's massive. Without a marketing or advertising background, the whole process is completely foreign to them sometimes. I like to start with sketches, style references, and names. I feel like it's important to get through that process before rendering a design that they potentially might not like. We are aware of the situation that we're in and try to cater to make it the least scary process as possible. It's not magic. I like to be more pragmatic about the process. 
A: What happens if a client reacts to a design by saying, "This is beautiful and all, but it's not really "us"? Does that give you an opportunity to figure out more about what their vibe is and capture who they are? Is it actually a good thing not to hit a homerun at the first at-bat, so to speak?
K: It is good feedback. It creates an opportunity for us to go back and learn more about who they are. If you can tell me what it is that makes up "you" and "who you are" and "what this brewery is about," and if you can tell me that story in words, in visuals, or even in abstracts, then you get into deeper conversations.
A: What are your favorite beers (for flavor and taste?)
K: New England IPAs and Hazy IPAs. They are delicious! I love Imperial Stouts, as well, I'm a sucker for those! 
A: Are there any brewery brands out there that you love because of their design work?
K: There is a company called Uinta Brewing. My buddy Josh did all of the design work for their early work and it's fantastic. The labels do a really great job of storytelling, everything has a place and is in its place. It looks like a really well-curated bookshelf, which I absolutely love. It gave me a very good sense of the brewery's personality and what they were about. It's gorgeous work. Bottle Logic Brewing also does a great job. 
A: That reminds me of the stories I've seen on the Bold City cans. It's so much fun!
K: Yeah! You want to give people an experience when they are holding the can in front of them. With a can, you actually get to hold it up close and study it when you're drinking a beer, so you want to build in those little story nuggets or Easter eggs to get people excited about finding something or experiencing something, and that gives you more of an impression of who the brewery is. Are they funny? Do they like to make jokes? Beer in general is a very fun industry. I know that people take it very seriously, but people who experience it want to smile and have a good time, so if you can build in those bits into the can, that's a bonus. I love it when the can is a good reflection of the people who brewed it and what's inside. I'm a big fan when a brewery has a really great beer and their label is just as amazing as the liquid it's holding.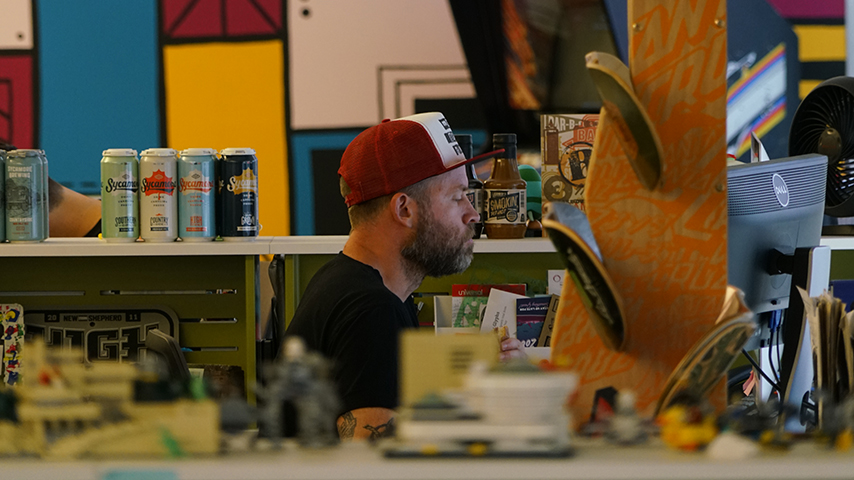 Well, there you have it, folks! Click here to check out more of our beer designs. Cheers!
More News