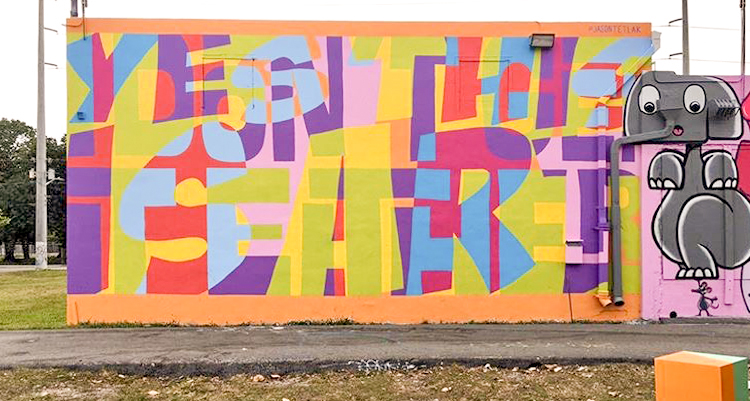 Production Artist Jason Tetlak Featured at Art Basel Miami Beach
Last week, our Production Artist Jason Tetlak took up residence at the RC Cola Plant in Miami's Wynwood District where he was a featured artist at the Basel House Mural Festival. Basel House is best known as the one spot where local working artists come to decompress, listen to music and let hip art jive with eclectic sound.
Tetlak was discovered through Instagram and invited to paint a mural at the 2018 Basel House celebration. The 40,000-square-foot mural festival featured 50 artists, in addition to live street painting, a 35-foot vert skateboarding ramp, 20 food vendors and a beer garden.
As the title sponsor, RXBAR set the tone of the festival with the theme "and we sort of understand art." Their message challenged Tetlak to think deeper about his craft, ultimately influencing his work for the show.
"I started playing with ideas around who really understands art, how you define what art is or even begin to describe it," says Tetlak. "The more I thought about it, I kept coming back to the fact that it just can't be defined."
The mural was painted directly onto an 18-foot by 36-foot wall using acrylic paint and took about four full days to complete. RXBAR created an exclusive, special activation alongside Tetlak's booth in which viewers were able to experience the "Red Effect" – a juxtaposition of how humans interpret art, whether it be abstract or literal. Red Effect required viewers to use decoder glasses while looking through a plexi-glass window pane in order to read the final message, "I don't get it either."
Tetlak's goal was to encourage visitors to remember that there's more to art than what you might see at first glance, and that while perspective is always subjective, the most interesting art often requires multiple vantage points to truly connect with the piece. 
"If you don't pay attention, it's abstract and you might walk away saying you sort of get it. But the longer time spent with the activation, the more the message sinks in," says Tetlak, calling his piece satire because, of course, art can't be defined. 
Tetlak's latest activation comes on the heels of winning a Guinness World Record in July for the largest anaglyph 3D mural. He primarily focuses on creating interactive art, either through use of 3D glasses or smart phone technology, to encourage viewers to spend time exploring his work. Tetlak also featured a collection of his hip-hop inspired work at Art Basel Miami Beach in 2017.
Founded in 1970, Art Basel stages the world's premiere Modern and contemporary art shows with weekends in Basel, Switzerland, Miami Beach and Hong Kong. Art Basel Miami Beach presents artworks from across the globe, while sitting at the nexus of North America and Latin America. The weekend draws in a record 70,000+ visitors each year while more than 250 of the world's leading galleries showcase the highest quality of Modern and contemporary works.
More News