Public Awareness & Community Engagement Power Sea Turtle Protection
#CleanDarkFlat. We know what you're thinking…why are you sharing your coffee order? It's actually a public awareness campaign we brewed up for Beaches Energy and all the baby sea turtles that hatch along our shores each year.
Beaches Energy Services is a public power utility that provides energy and water service to Northeast Florida's First Coast. The utility has served the area for over 100 years and always makes a point of supporting the beach community in any way it can.
Now when a sea turtle hatches on the East Coast, it immediately begins crawling towards the moon or morning sun in order to reach the ocean. It's a tricky trek for a baby just a few minutes old. House and streetlights near the beach can also confuse the little guys into crawling the wrong way and never making it to the water.
Sadly, a sea turtle that doesn't reach the sea can't just decide to become a regular turtle – it usually ends up as another animal's brunch. While our local birds and foxes may classify that as the Circle of Life, Beaches Energy wanted to make sure the lights they powered near the beach weren't responsible for confusing the little guys.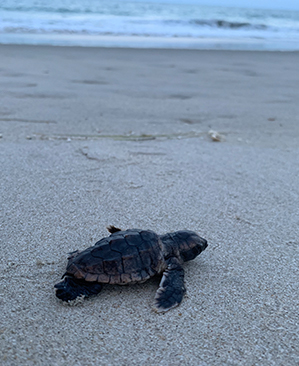 They asked us to help them engage the local community and help teach them how to help turtles during the May through October nesting season.
The campaign we developed centered on the three key ways to protect sea turtles:
The beach needs to be CLEAN. That means no litter or personal items left in the sand.
The beach needs to be DARK. No lights at night for the safety of hatchlings.
And the beach needs to be FLAT. You've got to fill in any holes that could trap turtles.
By combining digital tactics, including paid social media, emails, and a related landing page, with traditional media relations, Shepherd crafted a campaign that helped educate residents, positioned Beaches Energy as a leading supporter and partner of the Beaches Sea Turtle Patrol, and raised awareness of Beaches Energy's contributions and initiatives to help protect local sea turtles.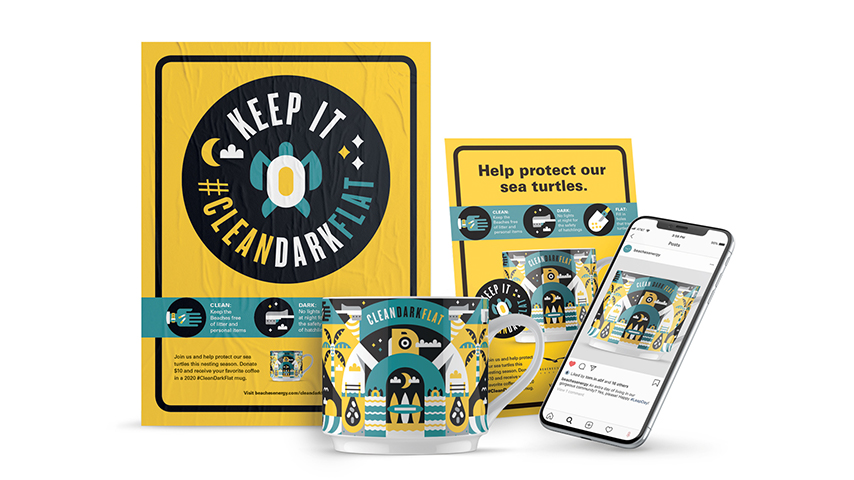 The hit of the campaign was a custom #CleanDarkFlat coffee mug/sticker pack that was sold in local coffee shops for $10, with proceeds going to the Beaches Sea Turtle Patrol.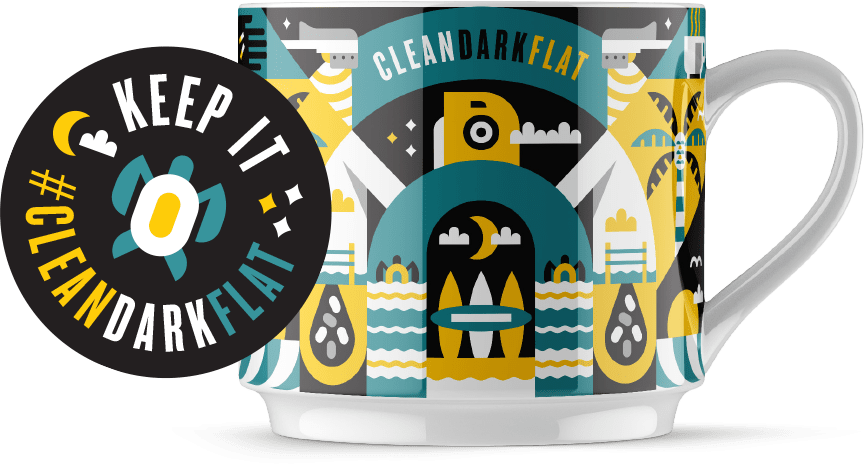 The campaign reached 170,000 people in just 6 months.
So if you find yourself near a beach, remember to Keep it Clean, Dark and Flat for Beaches Energy and mama sea turtles everywhere.
More News